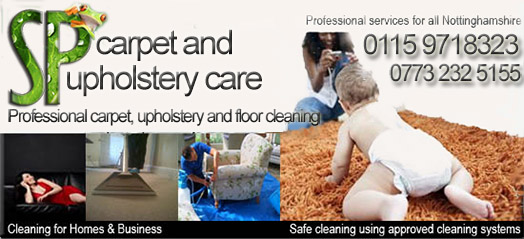 Many cleaning companies are restricted to using one particular brand of cleaning products or restricted to one particular method of cleaning, this may be due to franchise restrictions or they just don't have the experience,
we at S.P.carpet and upholstery care Nottingham test any new innovations in cleaning chemistry that becomes available, we do this to make sure the products we use are the very best for the job, because we are an independent company we are not restricted to just one cleaning system, in fact we have a number of cleaning systems and method we can use, different carpet and upholstery fibres react differently to different products or cleaning systems, so we use the best for each job we are asked to do on an individual basis, we do have favorite methods and products that we will use for most jobs but we also have the experience and expertise to deal with any fibre or fabric we are asked to clean, whether we are cleaning a wool twist carpet, a modern polypropylene carpet or a natural sea grass carpet we know how to get the best results every time!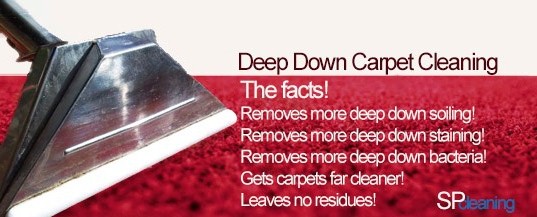 We favour two main cleaning systems for most carpet cleaning jobs these are the Deep cleaning system and the low moisture cleaning system.
All our cleaning products have been selected for their superior cleaning capabilities, their low environmental impact and safety.

When you use S.P.carpet and upholstery care Nottingham you will be guaranteed a superior service and super clean fresh carpets every time!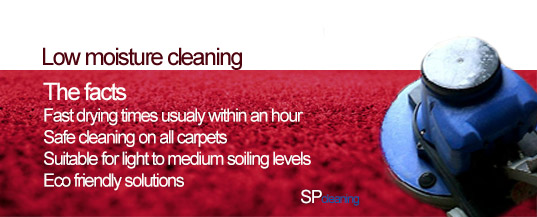 Our main cleaning products are 100% safe for pets and children, are free from harsh chemical additives and because they are fully biodegradable they leave no sticky residues behind so you get safer longer lasting cleaning.

We are members of the approved carpet cleaning association (TACCA) below are some things you need to consider when choosing a carpet cleaning company in Nottingham
1. Full training and knowledge of chemicals and safety issues
It goes without saying that quality carpet cleaning equipment is bulky and often very heavy, so the right training is required to move and store the machinery safely without risk to your home or workplace.
Carpet cleaning systems are powered by van mounted engines or mains electricity, which of course require training and high standards of care to safely provide your cleaning service
All carpet cleaning chemicals require training and mixing to the correct concentrations in order to be safe for the carpet fibres and users of the premises, this is especially important in areas where children may come into contact with the carpet
Over-applying or misuse of chemicals on the wrong fibres can cause rapid re-soiling of the carpet (because soap residues are sticky), permanent discolouration of carpet fibres or even complete loss of patches of the carpet caused by aggressive solvents loosening the bond between the fibres and the rubber/polymer backing
To apply for membership of TACCA, carpet cleaning providers have to be well trained and be able to prove certification from the major cleaning and restoration training providers
Insurance: Members of TACCA also have to prove full insurance to cover any unlikely damages – so by choosing a TACCA member, you have extra peace of mind.
2. The right equipment to do the job
To effectively clean carpets and remove deep-set stains we rely on 3 essential elements: heat, agitation and chemicals.
Cleaning Chemicals: Trained cleaning service providers care about the environment and your health so we only ever use the appropriate solutions for the job.
Whereas some cleaning companies will cut corners to reduce the amount of agitation (grafting) required, by using very strong aggressive chemicals that speed up the job but risk long-term damage to the carpets and increase the likelihood of rapid re-soiling
Trained professionals such as ourselves appreciate that to be safe and also eco friendly, whilst still delivering a great result, means we have to use use the minimum quantity and strength of cleaning chemicals, whilst using higher temperatures, suction and more effective agitation of the carpet fibres
Carpet Agitation Equipment: All TACCA members use carpet cleaning agitation machines to loosen soils deep down in the carpet pile, without proper agitation your carpets will appear clean at first, but are at risk of wicking and rapid re-soiling caused by residual dirt particles left at the base of the pile
Carpet Extraction Equipment: Small rental carpet cleaning machines only clean the surface and lack the power and suction to provide a deep clean. Although your carpet may look clean at the time, it won't be long before walking on it makes the deeply embedded dirt seep back up to the top and any residue of cleaning chemicals will also be left to attract dirt
Loosened dirt and solution is recovered from deep in the carpet pile using high temperature water jets sent through the extraction wand and immediately extracted under high pressure using powerful vacuum extraction systems, taking moisture along with any soiling out of the carpet
Powerful suction to effectively recover all the moisture and soiling from the carpet is essential to minimise any residue of chemicals or moisture, which if left over-wet can cause problems such as mould, distortion and damage caused by shrinking
This is why all TACCA members have to own the necessary equipment, including twin-motor extraction machines with at least 135psi pressure to join.
Drying equipment: In many cases it can be difficult to ensure completely dry carpets immediately after wet extraction cleaning, especially when taking care to thoroughly rinse chemical residues
So a slightly damp finish is completely normal and absolutely fine and will dry out naturally in a heated building over 1 to 6 hours
In some situations often with deep pile carpets, the drying process needs to be sped-up to ensure that the carpet will dry within a 6 hour window (over-wet carpets will begin to develop bacteria & smell)
To speed up drying we use fan heaters or high performance air movers, which circulate air flow over the carpet, encourage drying and ensure we leave you with a carpet that will be dry within a few hours of completion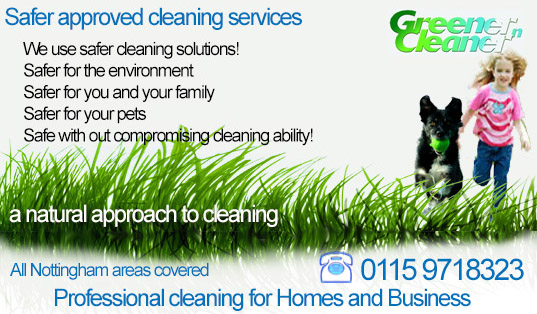 Approved carpet cleaning services
www.carpetcleanersinnottingham.co.uk